This Milenko era press flat is the rarest of all the ICP press flats. Its the only one that has ever popped up. Most people looking at it might be wondering who MSO is.
According to Wikipedia The Mitch Schneider Organization is a public-relations company that represents clients in the music industry. They are still in business and their website is
http://www.msopr.com
.
They were in charge of the press kit releases during most of the Milenko era for ICP. Their press kits range during ICP's stay on both Hollywood and Island, so I dont think they were representing those labels, but were hired by Psychopathic directly.
The MSO press kit papers themselves are almost as rare as the flat. Very few have popped up, and most traders have never seen or heard of them. I have been hunting these papers down for like 7-8 years now ever since I got my first few when I bought Jrocc's press flat collection which had a couple of these MSO kits.
I had never seen any before that and have been on the lookout and scouring ebay and wherever else for them since. Throughout that time I did find a few more to add to my collection. I dont even know if this is the complete set cause they are so rare that most of them Ive only seen pop up once during that whole time. I have seen some doubles on ebay, but it was only for 2 out of the 10 different ones I have. The rest are pretty much the only ones in the trading world. I actually thought I had a set like 2 years ago, but when I bought Countfetty's big binder of flyers/papers recently, he just happened to have 1 of these press kit papers in there and it happened to be one I didn't have. So who knows, there could be more out there, and I'm still on the lookout.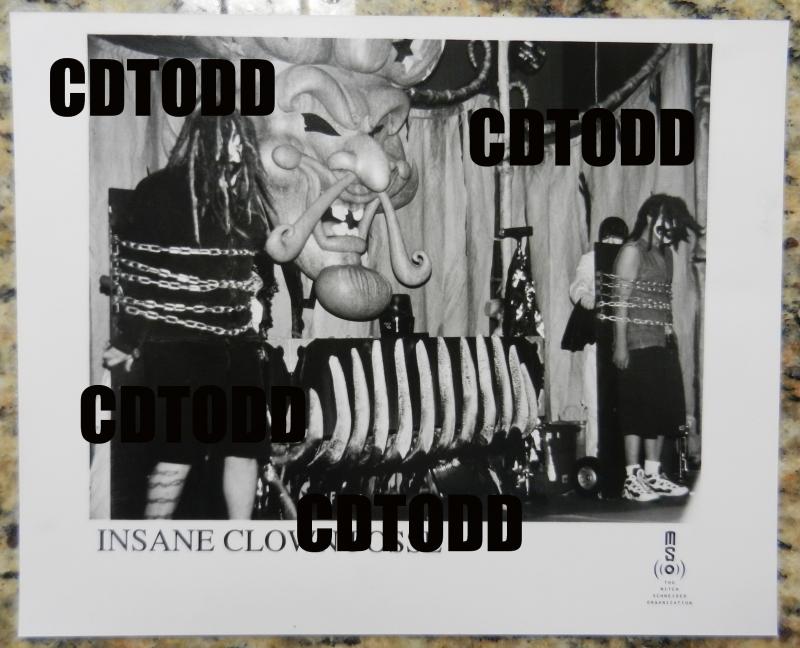 I decided to put up pictures of the 1st page of each MSO press kit chronologically just to showcase my collection. I have 10 different ones in total. I think they're a very cool look into how ICP wanted to present themselves and their mythology to the industry during their big breakthrough. This post took some time to organize so I hope you can appreciate these rarely seen pieces. I didn't mark them too hard so that if you feel like reading the first pages you can.
May 2 1997
This one is 2 pages and talks about all kinds of stuff about ICP like the mythology of the six, why they wear makeup, their live shows, the themes in milenko songs, etc.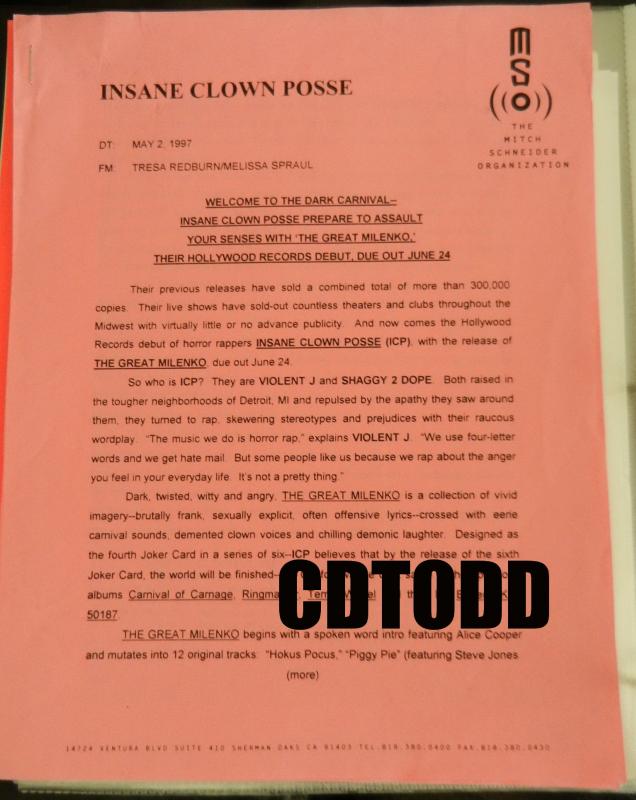 Im only putting up pics of the 1st page on these, but figured Id hook up this interesting part from the 2nd page of the above. An early alternate Intro for Milenko that Ive never heard about anywhere else.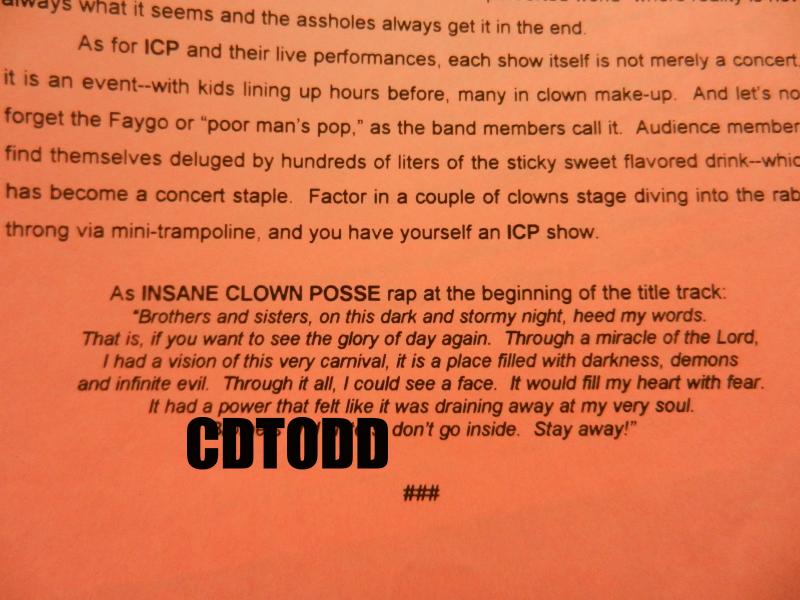 May/June ? 1997
This one is 1 page. The ICP dictionary? Lol. No specific date on this one, but its pre June 24 Hollywood release.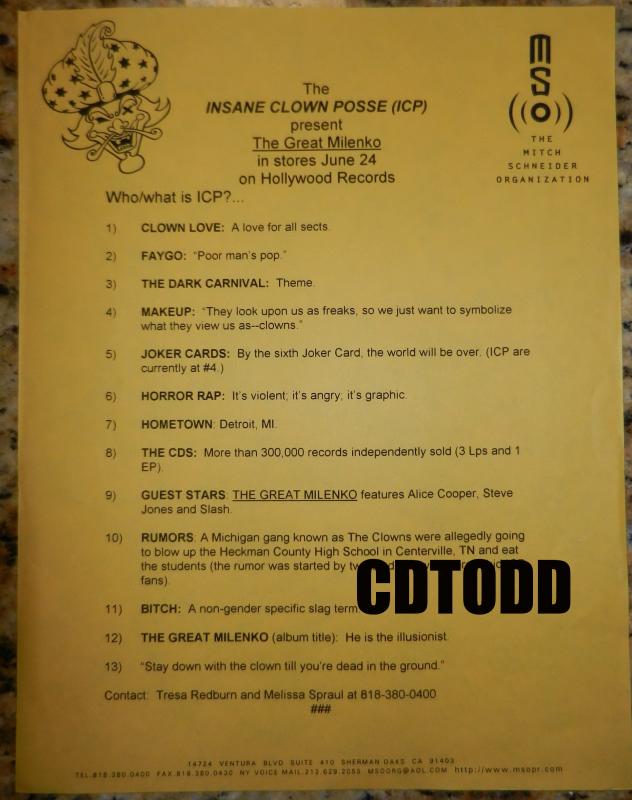 July 31 1997
This one is 3 pages and is the press release announcing ICP signing with Island and talks all about what went down with Hollywood and their signing with Island and the re-release of Milenko.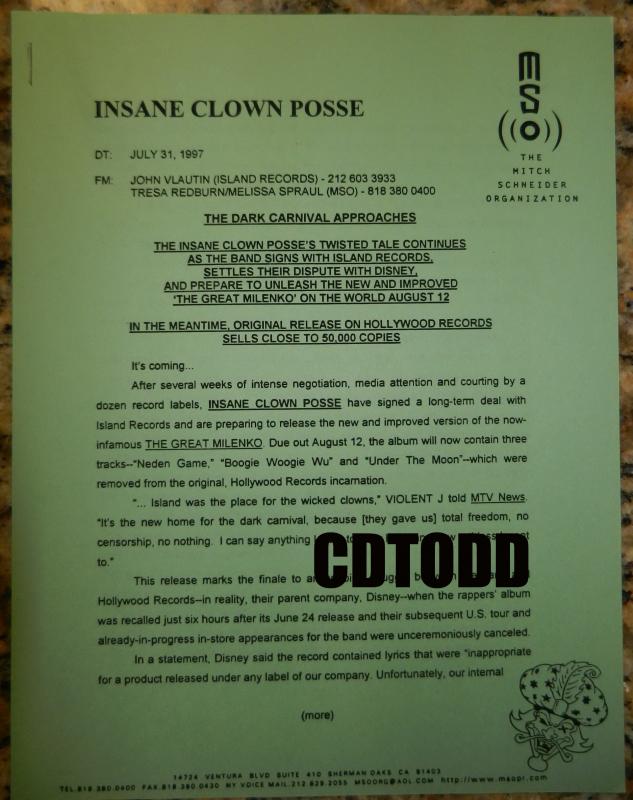 July/August 1997
This one is 3 pages and is a full on ICP biography starting all the way back from when they were the Inner City Posse gang, and how they became the clowns throught the dark carnival, and the mythology of all the joker cards, their elaborate live show setups, why they throw faygo, and a bunch of other shit. This ones a very cool read.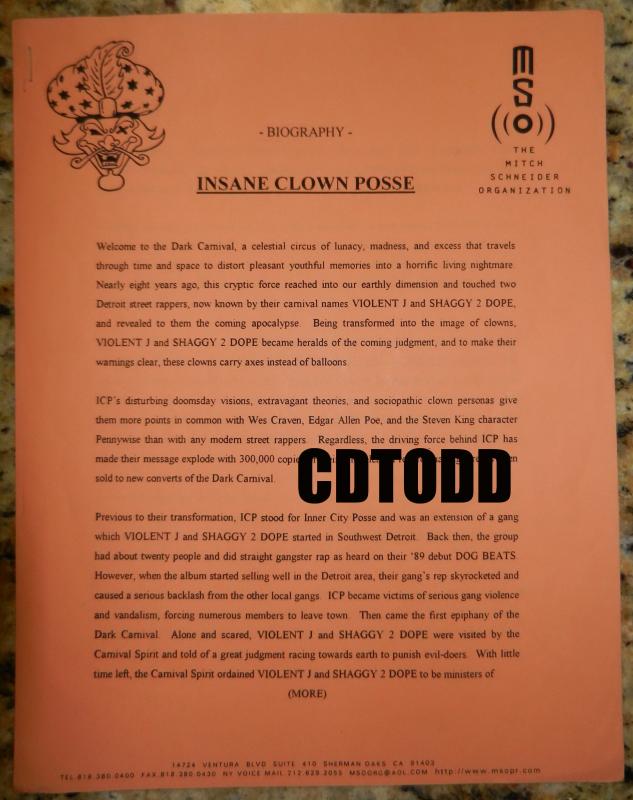 August 15 1997
This one is 3 pages and follows right after the release of Island Milenko and talks all about their upcoming concerts and in-stores, their first single and video (Halls of Illusions), etc.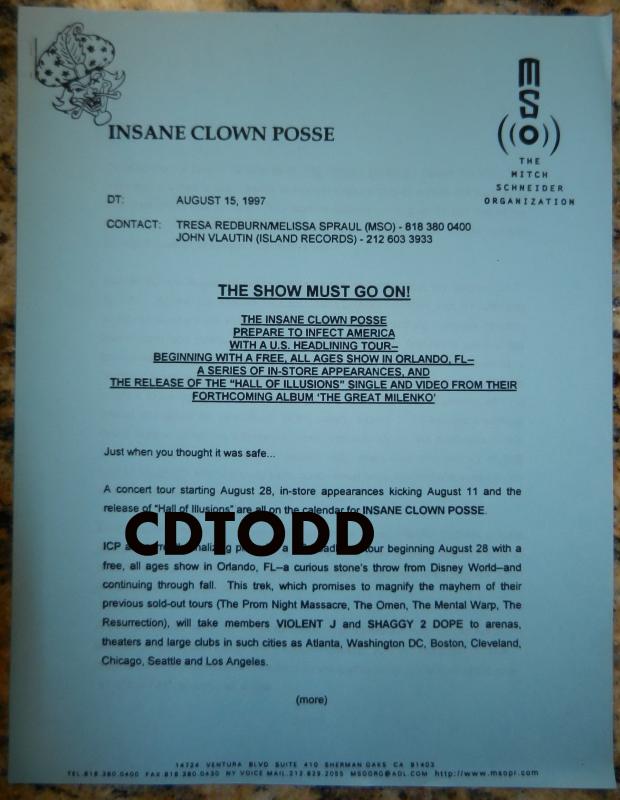 August 22 1997
This one is 3 pages and talks about ICP re-entering the Billboard top 100 with the first week sales of the Island Milenko, the buzz that the first single is creating before release, and also talks about the in-stores and tour, and about their ECW Hardcore Heaven 97 appearance on August 17 and what went down.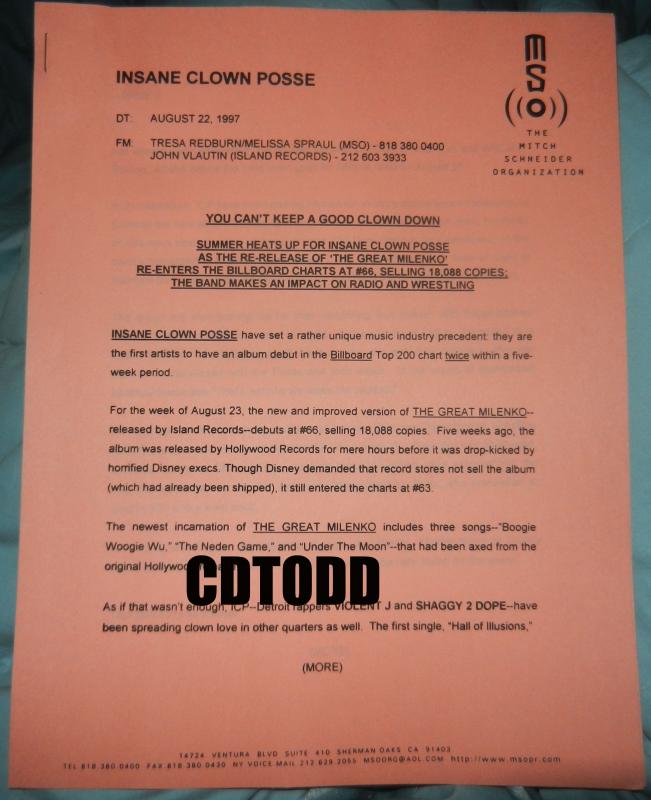 November 1997
This one is 3 pages and has a bunch of sound bites and reviews of Milenko from different sources ranging from July 97 to November 97.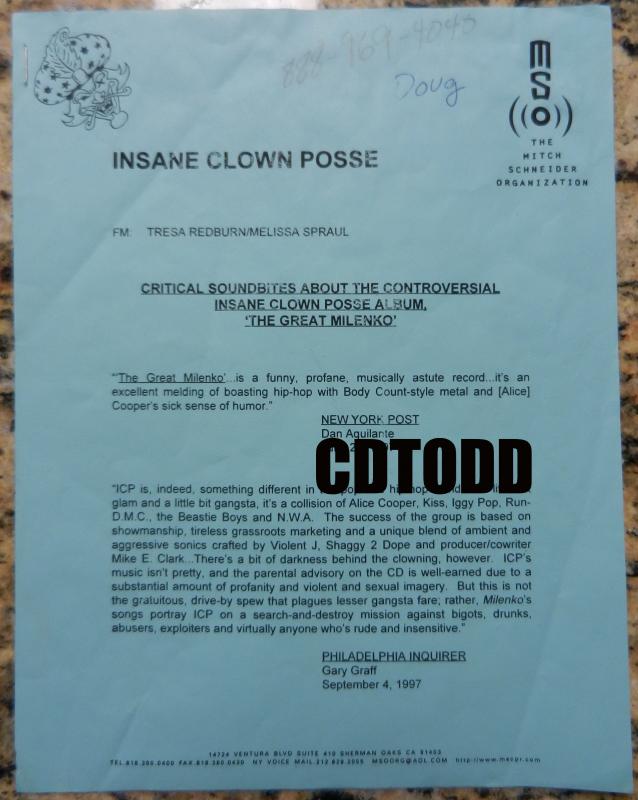 December 5 1997
This one is 1 page and announces the re-release of the A Carnival Christmas single and also wraps up the 1997 year announces the release of How Many Times single for 1998.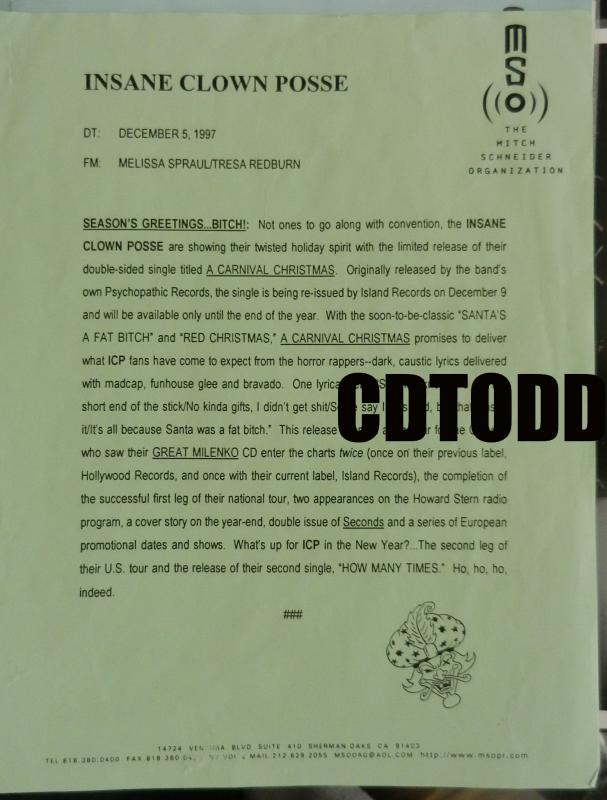 January 30 1998
This one is 1 page and goes into detail about the bus accident during the house of horrors tour where Violent J suffered a concussion as well as the cancellation and rescheduling of some shows due to the accident.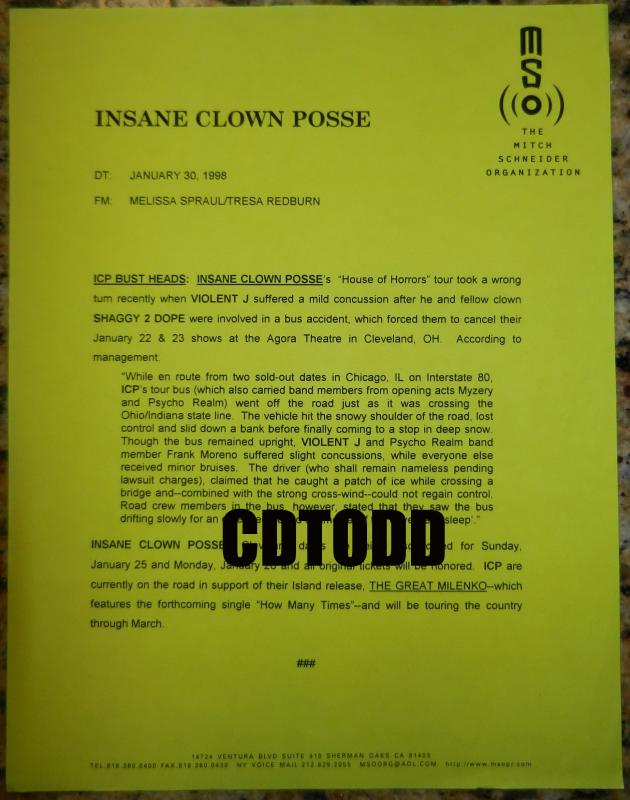 February 6 1998
This one is 2 pages and talks about some interviews with Violent J, Milenko on the charts, and the House of Horrors tour.